Wow that really came fast. I can hardly believe as I type this, there are only 5 home games left in "
The Cathedral of Baseball
".
Being originally from North Jersey and have had worked in New York City for a few years I have been to the "House that Ruth Built" more times than I can remember. My father used to take us as a family when we were younger. My Uncles used to take me when they had tickets. I would go with friends families as well. And then as an adult and working in the city tickets just were thrown at you, maybe not so much for a weekend series vs. the Red Sox. But on any given Monday thru Thursday if the Yankees were playing a home game you could probably fine a way.
I probably took it for granted how accessible The Stadium was to me. Now I live down in South Jersey, in Philadelphia Philly territory. Going into the season I didn't give much thought, I just assumed I would get to a game this year. Only problem is, I should have gave it a lot of thought. Tickets as you can imagine are few and far between. And until just a few minutes ago when I checked how many Home Games are left I figured I still had time.
You want to know the real killer here? A good friend of mind (who knows how bad I want to get to the stadium) called me Monday with a ticket if I wanted it for a game that night. Mondays don't work for me as Kim has her Doctorate class on Mondays so I just said thanks but no thanks. Had I realized we were in the last week of home games I might have tried to work something out (close In-Laws are great). For the heck of it I just checked Stub Hub and I see tickets are as high (you can get some for a couple of hundred) as $15,000. Remember when I said Kim knows if I want something I usually get it. Well this would be a time where that doesn't work.
Its OK I have quickly come to terms with the fact that I will have to just hold my memories of the "Greatest Stadium Ever". If you have never been you would not understand how I can say that. There is just a certain allure (not sure if that is the word I am looking for or not) to Yankee Stadium. Yes it is old and really is not up to the standards of the new Stadiums in MLB but there was just a feeling that you got when you walked into the stadium that I don't think will be duplicated ever. But again it is OK and at least I have had that feeling numerous time over.
Lastly I will tell you the greatest game I ever saw at Yankee Stadium. I hate that as time goes on when I tell people I was at this game they usually say "yeah you and about a million others that say they were there". But that being said I was at the Dave Righetti no hitter on July 4, 1983. Spur of the moment, I was 14 years old and a friend of mines brother who was a few years older (and drove) asked me and the friend if we wanted to go to the game. We said sure, my parents had no problem with it so we went. It was a Monday we (he) scalped 3 tickets and we were in the ballpark. Cutting to the chase if you are a baseball fan you can image the atmosphere as the game got into the late innings - it was electric to say the least. The last out was just magical as he struck out Wade Boggs who was batting .361 at the time (I looked up the avg. - I'm not that good). Simply the best game I have ever seen. I really need to dig through my old bedroom as I bet the stub is somewhere in there. Box score from the game.
So to Yankee Stadium I say "Goodbye for now old friend, you will be gone but not forgotten"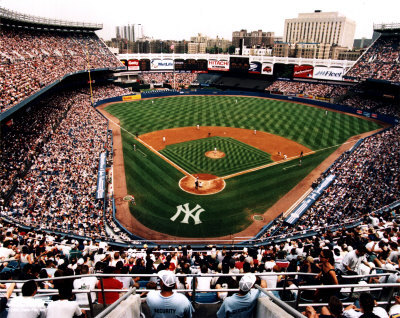 ---